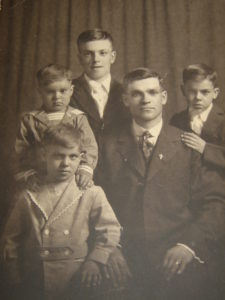 Thomas Brinsko and His Sons. Clarence Brinsko, Nick Brinsko's grandfather, is the youngest of the four boys. Thomas and his wife (unpictured) passed away when Clarence was young.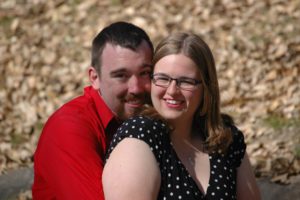 Eleanor and Nick Brinsko found their teamwork and balance when they were researching Nick's 90-year old family mystery. Nick's grandfather, a 95-year old World War II veteran named Clarence, lost his parents before the age of 10. Clarence only knew a few facts about his ancestry and what his parents passed away from. Nick wanted to help answer the long-time family mystery for his grandfather's 95th birthday in 2013. Together Nick and Eleanor were able to find out where in Europe his family came from and who his ancestors were. Eleanor retrieved the naturalization records, census records, and used resources to track down where the man's father immigrated from. It was the best birthday present the veteran could have imagined!
Eleanor, Lead Genealogist and Owner, has been collecting tools for genealogy her entire life. Raised by two historians, her passion for discovering and telling the story of her ancestors grew strong in her. Eleanor gained her training while working at the University of Wisconsin-River Falls Area Research Center, answering questions by phone, letter, email, and in-person by patrons around the country. She holds a Bachelors of Music Education from UW-River Falls as well as a Masters in Music History (specializing in radio history) and a Masters in Library and Information Science from UW-Milwaukee.
In 2020, Eleanor was made adjunct professor at University of Wisconsin-Madison's iSchool where she taught a 1-credit graduate-level course on genealogy! Her perspective when teaching this course is from both sides of the reference desk: what would a genealogist need from a librarian and what resources does the librarian need in order to help promote genealogical resources in the library.
Nick, Technical Services, became fascinated with the process of genealogical research and presentations and has been a partner in Carlon Genealogical Services, LLC. He assists in genealogical lectures, research, web development, and presentation technology. He currently works for a software support company.